All Entervans are built at the BraunAbility plant in Indiana. They are the best wheelchair accessible van made. Choosing the right one for your needs is not as easy as picking the color you like.
So many questions need to be asked and answered, before a good choice of wheelchair accessible van can be made. That is where the choice of mobility dealer can really make a difference.
We at AVM know you have a choice of who you get your mobility equipment from. AVM is here to listen to you, and help advise you, as to what will solve the mobility issues you are trying to overcome, so that you can get on with your life.
AVM has been outfitting vehicles with adaptive equipment for over 18 years, and I don't think we have built the same setup twice, because every system is centered around each person's needs. The "cookie cutter" approach doesn't work. That is why it is so important to have a mobility dealer that will listen and understand your needs, before they recommend an adaptive equipment system for you. At AVM we are here to put a system together that will meet your needs and exceed your expectations.
One last word to our veterans – the VA does allow you to choose the vendor that will provide service and delivery of your mobility equipment, i.e. scooters, power-chairs, lifts and carriers. Don't ever put up with poor service. You deserve prompt courteous and reliable service.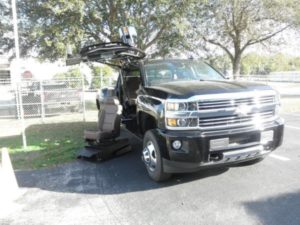 You can depend on AVM and we thank you for your service to our country.
Paul