Because Mobility Means Independence!
In our business, putting the customer first takes on a new meaning. Our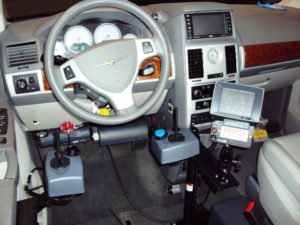 customers have enough to worry about. At AVM we take so much pride in being able to serve our customers with the latest and greatest technologies, the best customer service and solutions that will help them get their lives back!
Driving with Accessible Vans and Trucks, Turning and Lifting Automobile Seats, Hand Driving Controls, High Tech Driving Systems, Wheelchair Lifts and Scooter Hoists.
Living At Home with Ramps, Stair and Pool Lifts
Going Anywhere with Scooters or Complex Wheelchairs
Authorized Dealers for
BraunAbility Minivans for Honda, Toyota, Dodge and Chrysler
Bruno and Harmar
Permobil Invacare and Pride
Read More About Us
AVM, INC. would like to take this opportunity to say "thank you" to you and all of our Veterans for allowing all of us to enjoy the freedoms we have every day as a result of your sacrifices.
$20,235.20 payments by Veteran Administration
Purchase a New Vehicle Every 2-4 Years
Trade Your Current Vehicle
Purchase Pre-Owned To Save More