Q6 EDGE 2.0
With features like standard 6 mph motors and advanced responsiveness, The Q6 Edge 2.0 is engineered to meet the performance needs of the most active user. The Q6 Edge 2.0 accepts a complete range of seating and electronics options to deliver exceptional rehab capability at an excellent value, and is available with Quantum's ilevel technology.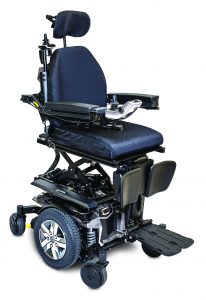 Quantum    Dedicated  revolutionizing the                                   power chair experience.
Pride
Q6 – Feel the Power
The aggressively styled, Quantum 6000 incorporates Mid-Wheel 6 design and a powerful drivetrain for excellent overall performance and maximum torque. The Quantum 6000 is fully compatible with a broad range of seating and electronic options for limitless rehab capability. Also available with 8 mph high speed motor package or XL series for 400 lbs weight capacity.
Quantum 610
The compact Quantum 610 is the ultimate choice for users who demand the superb stability of Mid-Wheel 6 design and tight-quarter maneuverability. Highly adaptable, the Quantum 610 accpts a wide range of seating and electronic options while its powerful drivetrain delivers high-performance torque.
Q6 Pride Colors
Multiple colors available for each Q6 to match your style!
Other Pride Rehab Wheelchairs
Q1121
The Q1121 delivers exceptional maneuverability, high performance operation and superb rehab capability. It is compatible with a wide range of rehab electronics and seating options like TRU-Balance Power Positioning Systems, the 1121 is designed to meet the diverse needs of the active rehab user.
Quantum R-4000
The Quantum R-4000 rear-wheel drive power chair delivers aggressive, terrain-gripping torque and is available with an optional high speed motor package for a top speed of up to 8 mph. The innovative, compact design of the Quantum R-4000 makes it highly maneuverable in tight spaces without sacrificing traditional rear-wheel drive performance.
Q-Logic Drive Control System
The Q-Logic Drive Control System by Quantum Rehab is the most advanced power chair electronics package available. Q-Logic creates an adaptable, expandable control system that serves even the most complex of needs while delivering a host of exclusive features.
Standard Features:
Color LCD hand control screen displays system functions clearly at a glance
On-screen data includes battery gauge, speedometer, odometer, real-time clock, mode settings, speed dial settings, drive status, and seat function
Keypad features easy-access power, mode, and speed dial functions, as well as a horn and menu buttons
Auxiliary jacks are built-in for the use of additional adaptive switch input devices
The reminder feature allows clinicians and providers to set on-screen alerts that routinely remind the user to take medication, perform weight shifts, recharge batteries, ec.
Fully programmable drive profiles allows the tailoring of the power chair's handling to the sidest ranges of needs, including advanced features of tremor dampening and latched drive
Software-based system allows for updates to be quickly downloaded
Permobil
The Power of Mobility
Permobil offer solutions to complicated needs, solutions to matching seating and mobility needs, and solutions to challenging funding resources.
Permobil offers an array of power bases and a wide variety of seating options.
Professional Rehab Series
M300
Maximum Maneuverability, Superior Performance
Having launched the first mid-wheel drive platform to the wheelchair market nearly 30 years ago, Permobil honors that rich tradition with the addition of the M300 to its product line. Developed by Permobil sthe M300 features the ground-breaking patent pending Climbing and Traction Link system. With its compact size, the M300 has a tight 20″ turning radius, comes with PG 120 amp R-Net electronices and offers 2 speed packages – 6 mph standard and 7.l5 mph optional. The M300 also features stylish easy-to-replace swing arm covers made of scratch resistant material, which protect the swing arms from unsightly chips and scrapes. Easy to maintain, the M300 provides quick access to components and requires no special tools for servicing.
C300
The sleek good looks and high caliber performance you'd expect from high-end rehab products is now available in the all new C300. No other powered mobility product in its class can offer the perfect bend of stability and agility and still compete for the most economical package. A tremendous value from passionate engineering incorporated to give even more choices than ever before.
Newly designed suspension system provides improved agility with a smooth and comfortable ride
Front and rear tie-down points add stability during transportation
Maximum speed – 5 mph
Driving range – 16 miles
Ground clearance – 3.25 inches
C400
The all new C400 combines innovative design, styling, and advanced engineering concepts. The C400 maintains a small profile but combines better indoor maneuverability with superior outdoor performance. The C400 perfectly demonstrates the progression of complexity that exists with the Permobil Professional Rehab Series.
An enhanced suspension system provides s moooth and comfortable ride
Side battery access allows for quick removal and installation
Front and rear tie-down points add stability during transportation
Maximum speed – 4 mph
Driving range – 19-25 miles
Ground clearance – 2.8 inches
C500
The all new C500 is built from timeless, classic Permobil values: superior quality, sophisticated technology, and the greatest forms of functionality. Down to the smallest details, this base is exhaustingly refined and redesigned to be the best seat in the house. Its effortless performance tackles obstacles with unmatched power and increased maneuverability.
An enhanced suspension system provides a smooth and comfortable ride
Side battery access allows for quick removal and installation
Front and rear tie-down points add stability during transportation
Maximum speed – 5 mph; with S package – 7.5 mph
Driving range – 19-25 miles
Ground clearance – 3 inches
Street
The Street solves the problems of city life. The Street manages 7.5 mph, allowing for faster movement in the city, and is designed to handle narrow, awkward spaces. The 4-wheel adjustable independent suspension provides a smooth, comfortable ride. The suspension is visible, giving a stylish, powerful impression. The center of gravity tilt system with recline allows a new level of balance and confidence. The Street is ideal for those who prefer rear wheel drive.
Automotive type 4-wheel adjustable suspension provides a smooth ride
New high powered motors with 100 amp electronics have speeds up to 7.5 mph
Beautiful fittings abound like the combination tie-down point and anti-tip wheel
Maximum speed – 7.5 mph
Driving range – 15-22 miles
Ground clearance – 2.4 inches
Permobil Seating Systems
CS
The CS system provides a comfortable, slightly contoured seat for users who feel comfortable and stable with a low profile seat. Several sizes and manual recline are standard and offer the ability to accommodate a variety of users. The cover material is easy to clean and durable.
PS
The power of adjustability and versatility defines the PS system. The sliding, telescoping frame and expanding seat pan allow for full range of inherent growth. The PS is constructed of a super durable tubular material, designed to support aftermarket seating options. The level of adjustability is unmatched – 5 degrees of adjustability at the footplate, armrests that both flip up and move out of the way, and footplate hangers that swing away or swing inside.
Corpus
The Corpus seating system's modular design enhances functionality, through changes in sizing and power functions. The Corpus is designed by one of the leading ergonomic experts in the world to match the natural contours of the body. The customization of the Corpus seating system is limitless. Depth, width, height, and angle of multiple seat components can be adjusted or customized. Ergonomically pleasing and with power tilt and recline, the Corpus is the world's most popular powered seating system.
Stander
The Stander gives the user two ways of standing, from sit to stand or standing from a partially or fully reclined position, making it a viable option for many users. The seat incorporates the ingenious Corpus seating system with the critical benefit of standing, and even driving while standing. The modular design of the Corpus seat ensures optimal fit, and the increased access, function, and the medical and psychological benefit of standing cannot be ignored.
Aeron
The Herman Miller Aeron seat was designed from extensive ergonomic research conducted in work environments to reduce fatigue, repetitive strain injury, and maintain proper body alignment. The unique and highly permeable Pellicle material allows air and body heat to pass through the seat and backrest to help maintain even and comfortable skin temperatures and prevents moisture buildup on the skin's surface which can lead to skin breakdown. This material also conforms to the body and distributes weight evenly over the seat and back for truly customized support.