Technology Professional Earns High Accreditation
---
LOCAL ASSISTIVE TECHNOLOGY PROFESSIONAL EARNS HIGH CREDITATION
1 of Only 22 Nationwide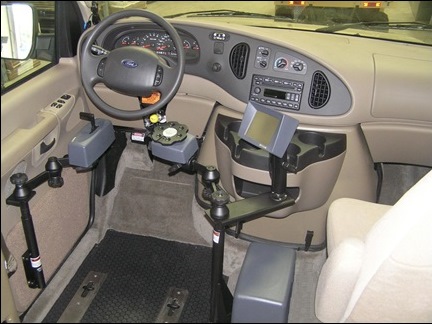 January 26, 2011 – Ocala, Florida – Paul McGuckin, ATP/SMS, CRTS, President at AVM – Advanced Vehicle Modifications, Inc., has earned the Seating and Mobility Specialist (SMS) certification by the Rehabilitation Engineering and Assistive Technology Society of North America, (RESNA) becoming one of only two persons in Florida and only 22 nationwide to have earned this credential to date.
Becoming SMS certified first requires having already earned the ATP certification and then passing a national exam dealing specifically with seating and mobility for complex wheelchairs. Paul earned the ATP certification in 2004. An ATP is a trained assistive technology professional who analyzes the needs of individuals with disabilities, assists in the selection of the appropriate equipment and trains the consumer how to properly use the specific equipment. The Assistive Technology Professional (ATP) certification recognizes professionals who have reached an internationally accepted standard of knowledge in assistive technology and who demonstrate a commitment to provide only the highest ethical standards of practice.
To earn ATP Certification, McGuckin had to demonstrate an understanding of the main principles of assistive technology including psychology and sociology; human anatomy, physiology, kinesiology and biomechanics; basic etiologies and pathologies; learning and teaching; assessment procedures; service delivery systems and funding for assistive technology; design and product development; product knowledge of assistive technology devices; integration of person, technology and the environment and professional conduct.
Recently RESNA raised the bar by offering an additional certification for those ATP's who specialize in complex wheelchair seating and mobility. To date, only 80 professionals have qualified and tested and only 22 have passed the test and become certified Seating and Mobility Specialist – SMS.
This means that Paul McGuckin, ATP/SMS, CRTS and President of AVM – Advanced Vehicle Modifications has met the highest standards in the complex mobility industry and is uniquely qualified to evaluate the needs of disabled patients for high-end and complex seating systems for wheelchairs in the Ocala area.
Paul has been in the mobility industry for 30 years in providing not only complex wheelchairs, but also accessible vehicles and high tech driving systems. Disabled persons with complex needs will be able to find the complex solutions they need without leaving Ocala.
About RESNA
RESNA is a non-profit professional organization whose members serve people with disabilities seeking technology applications to maximize their ability to function in their environment. RESNA's membership consists of researchers, clinicians, suppliers, manufacturers, consumers and educators who work in nonprofit and for-profit companies. All members are dedicated to promoting the exchange of ideas and information for the advancement of assistive technology.
For more information on the SMS certification, visit www.resna.org.
For more information about the services provided by Paul McGuckin, ATP/SMS, CRTS, call AVM – Advanced Vehicle Modifications, 2520 NW 6 Street, Ocala, FL at 352-622-4467 visit www.avmmobility.com.